DIY Gift Box Ideas - Great For Valentines Day
Valentines Day DIY Craft Ideas and Inspiration
---
Valentines Day is approaching and we are thinking up all the little tips and tricks of Craft you can do to make your boxes stand out and personalised at little cost.

Take a look at some of our ideas for inspirations!
Little Tags -

These are great for all DIY and personalizing your packaging.
You can either buy your own tags and design them, or as we have done here, simply cut out of our Kraft 1 Piece flat-pack box (http://www.tinyboxcompany.co.uk/c/168418/1/1-piece-flat-packed-kraft-natural-boxes.html) and draw your design. These have been personalized with a little tissue paper for a splash of colour.
Create a hinged box -
Little tricks like this can really transform a standard gift box into something with an extra touch.

This little trick is simply one of our Kraft Natural Gift Boxes with Black Satin Ribbon poked through the lid and base at the sides to create a ribbon hinge. We have added an extra piece of ribbon to the inside lid and base to stop the lid from opening fully when unraveling your product. Note; if you are a jeweller and have little rivets, rose gold or copper rivets would look beautiful popped through the cut holes to give a more professional hinged finish.

Box used: Kraft Natural Square Deeper Box (KR21) - http://www.tinyboxcompany.co.uk/p/582339/wholesale-square-kraft-brown-gift-box---deep-size-89-x-89-x-51mm-kr21.html
Pillow Boxes -
Why stick with a standard pillow box for a gift?
This was so easy yet so effective to achieve, simply trace your design onto the box, grab a penknife to cut it out and stick or tape cling film or food grade plastic to the inside. Not only does this allow your product to be viewed, but also provides quick and easy personalization!
Box Used: Large Kraft Pillow Box (PILKRLAR) - http://www.tinyboxcompany.co.uk/p/8739927/large-kraft-pillow-box-160-x-138-x-40mm-pilkrlar.html
If you feel you're not that skilled with a pen knife, have a look at these easier designs, still just as adorable for Valentines Day -
These simple ideas are so brilliant for gifts for a loved one or even retail or fair gifts for Valentines Day.
Boxes Used:
Medium Kraft Pillow Box (PILKRMED) - http://www.tinyboxcompany.co.uk/p/8739921/medium-kraft-pillow-box-105-x-83-x-20mm-pilkrmed-.html
Small Kraft Pillow Box (PILKRSM) - http://www.tinyboxcompany.co.uk/p/8739916/small-kraft-pillow-box-50-x-45-x-10mm-pilkrsm.html
Another great option using a penknife, a design cut out box!
The design once again has been simply achieved by tracing a design onto the box lid and cutting out the design carefully.

This could be brilliant if you want to show off your product inside in a stylish finish.
Item used: Kraft Square Jewellery Box 89 x 89 x 25mm (KR18) - http://www.tinyboxcompany.co.uk/p/479900/wholesale-kraft-gift-boxes-recycled---89-x-89-x-25mm-kr18.html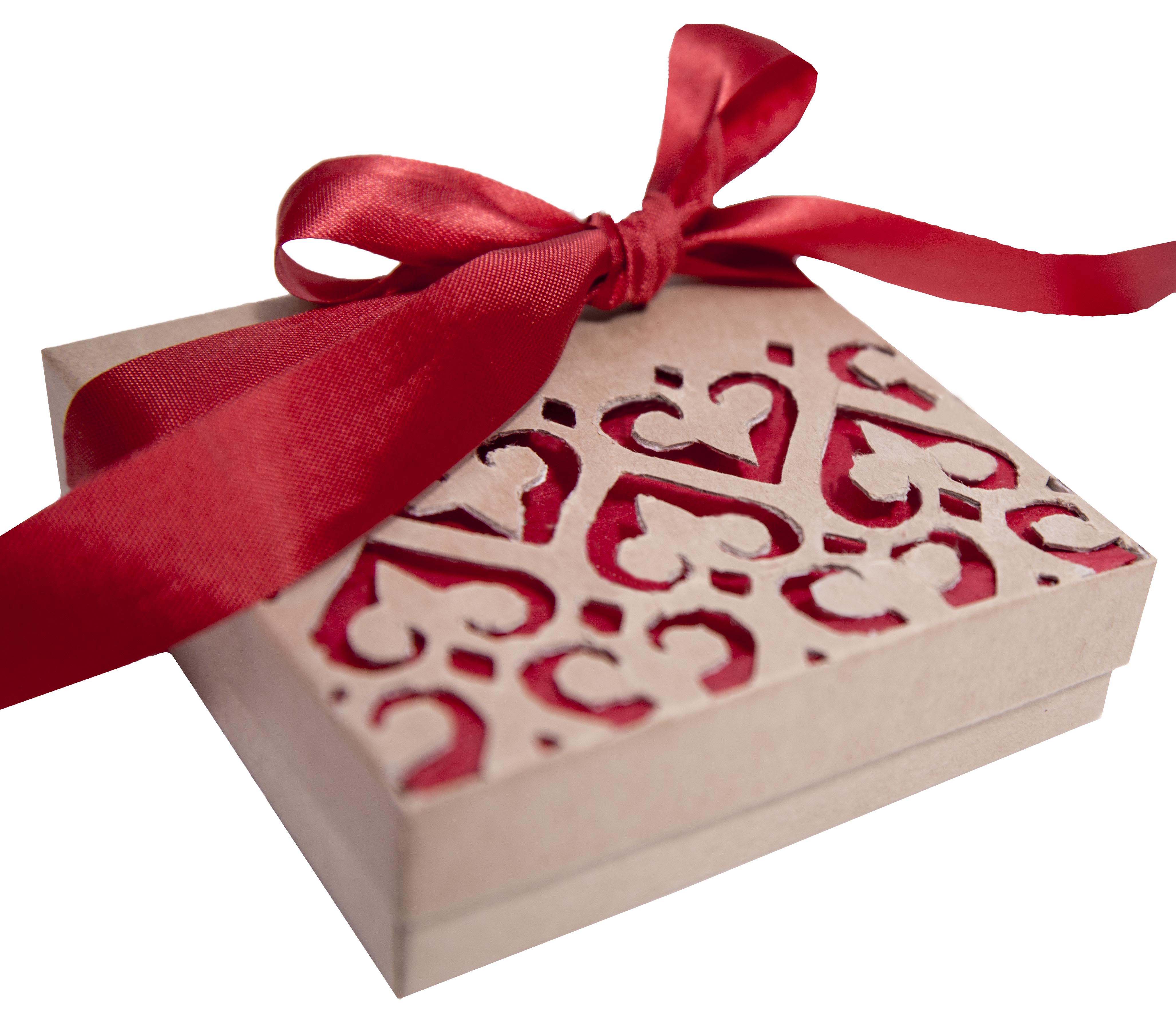 Using the same technique, simply adding some tissue paper or patterned paper to the inside of the lid behind the design can create a really effective and personalised finish.
---
All these DIY designs are so easily achievable, with a little creativity you can design and create your own personalised packaging masterpiece!

We always love seeing your final pieces so please do upload and tag us in your images @tinyboxcompany.

Love Tiny Box Team x