Tiny Telegraph January 2016
In our January Newsletter Issue we gave you a sneak peak in some new products and coming soon. In this post we would like to show you in more details our ideas, future lines and what's been happening at Tiny Box this month.
Tiny Box News
We have had a great year at Tiny Box, we have grown, taken on more staff, premises and stock lines to suit you. We are so excited about what 2016 will bring and cannot wait to bring you along with us.
We brought the team together to take an annnual Tiny Box Christmas Jumper Day photo, however we soon realised after looking to source 25 ethical Christmas jumpers was nearly impossible so we felt we should make our own Christmas tradition with ethically sourced Christmas hats! The staff picture is a lot larger this year! We wish you all a wonderful 2016 and great success in your businesses.
New Products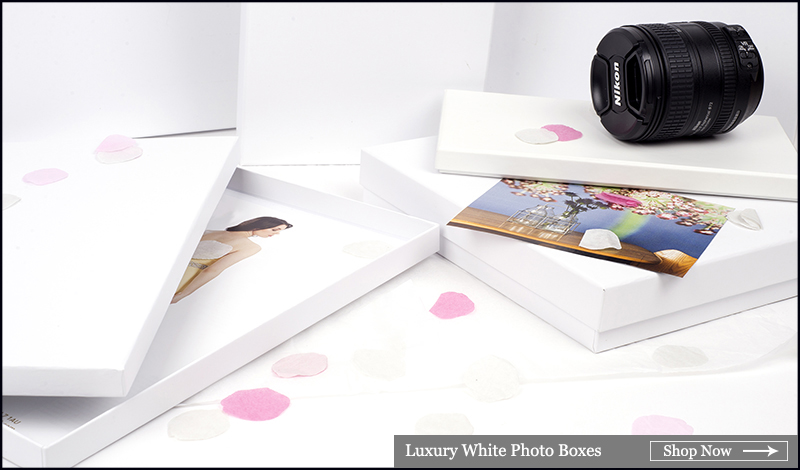 White Laminated Photography Boxes
Available now in sizes 8 x 10" and 10 x 12"

We have had a high demand in the last few months for photography boxes, so we are starting to expand our range.
Introducing our White Laminated Photography Boxes.
These boxes are ideal for prints, small albums and more. With a luxury laminated finish these make the perfect wedding packaging as well as being clean, classic and beautiful for all other photography projects.
These boxes have a matt laminated finish making it very easy to clean off dirty fingerprints or spills.
Click here to browse the range.
Upcoming Products
Luxury Grey Jewellery Boxes
Upcoming sizes to be confirmed.

Grey has been a huge trend in the last few months. We have been asked many times for a grey jewellery range which looks luxurious and compliments the jewellery.
We have come up with this mid-grey range, with a matt laminated smooth finish which provides elegance and sophistication. This grey looks beautiful printed in silver or rose gold.
We are hoping to have this range completed and ready to purchase by Spring, so watch this space!