Insight into Inserts.
Insight into Inserts.
---
Here at Tiny Box, the majority of our boxes come with flat inserts making them multi-purpose for most products.
But we thought it would be useful to show you a few ways to utilise inserts the best you can.
Take a look at some tips!

1. USB Sticks

Most USB sticks tend to fit perfectly in our Earring boxes. However, we have a great and easy solution to secure your USB as well as
using this opportunity to involve your brand colours.
Simply take some ribbon of your choice, remove the insert, tie your USB to the insert and pop the insert back into the box


For more solutions for USB's, check out our video on 3 Ways To Secure A USB Into Your Tiny Gift Box




2. Earrings

We've noticed the trends have taken a turn towards bold patterns and bright colours. Why not get some patterned paper to cover
the insert to display your earrings with a bit of fun!



We get asked quite frequently how to attach earrings to our inserts, here's a quick video to show you how.
Use a pin, needle or jewellers pin to give you a hand.



3. Necklaces

A super simple way to use the foam inserts for necklaces or bracelets.



You can do the same with the cotton insert, or simply use a small craft knife to make little holes in the cotton and slip
your necklace ends through and secure at the back.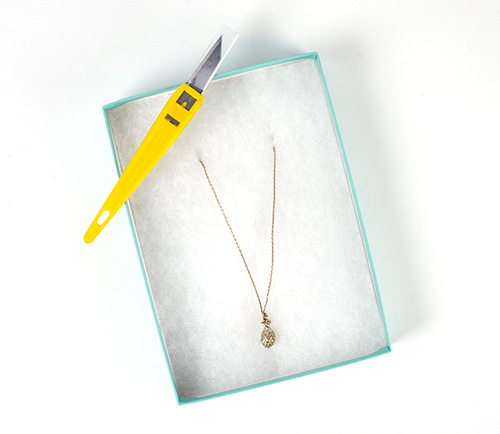 4. Pillow Boxes

For our boxes that don't come with an insert, why not either use tissue paper to wrap a
garment in, or for small pieces create a fun patterned card insert. We have attached a ribbon
for an easy way to remove it.



5. Bespoke Foam

Most of our boxes come with foam/cotton inserts as standard. Unfortunately, we do not have the facilities to manufacture foam
in house. If you need custom foam, we recommend contacting a foam supplier called Drayton Foam,
they should be able to help further. Please always send a sample box to the foam supplier before proceeding and
note as our boxes are handmade dimensions may vary very slightly box to box.

---
If there is anything else you would like to see on our blog, do not hesitate to contact me on tia@tinyboxcompany.com
---
Written by Tia | Tiny Box Company