The Tiny Box Company

Foil Branded Gift Boxes & Bags
At Tiny Box Company, we offer in house hot foil printing. This method of printing offers your brand the widest range of choice from the product options available on our website only, which includes our gift boxes, gift bags and ribbon. Our experienced print team is dedicated to quality and ensures every stage of the printing process runs smoothly. Each box is printed and packed by hand, ready for delivery. Our hot foil print is available with a gloss, metallic foil, satin or matte finish. Foiling gives the focal point of your packaging a brilliant finished look - minimal design with maximum effect. What better way to add personality to your packaging?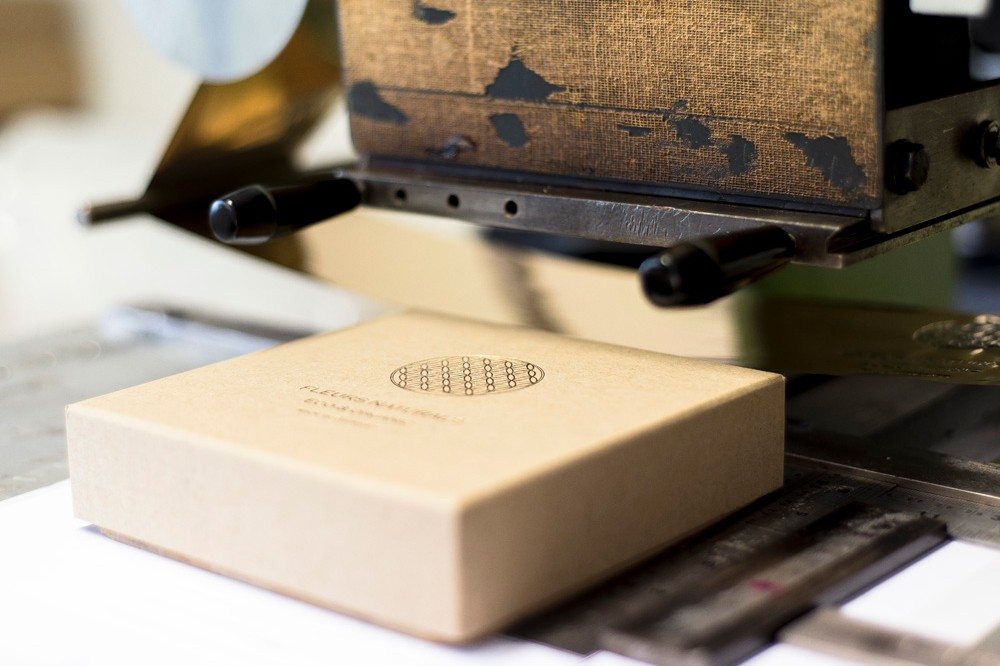 ---
Branded Gift Boxes
We have a minimum order of 50 boxes per size for foil printing.
| | |
| --- | --- |
| Print plate (set-up) | £25 - £81.80 . |
| Print run of boxes (printing) | starting from 13p - 44p per box . |
Branded Gift Bags
We have a minimum order of 100 bags per size for foil printing.
| | |
| --- | --- |
| Print plate (set-up) | £25 - £81.80 . |
| Print run of bags (printing) | 22p per bag . |
For foil printing, two costs are required.
Print Plate: is required to set-up your job. This is created by taking your artwork and getting it etched into a metal plate (recyclable magnesium). This process can take a few days (depending on season) and allows us to stamp your logo onto the box using the foil of your choice. 
This is a one-off cost, unless you require multiple plates per design/size. The cost is dependant on the area size of the design, which will be mocked up and sent to you for approval. Please note; because this is a physical plate, size or design changes are not possible once made. A secondary plate would be required for additional sizes or designs. We retain your plate/s on premises. 

Print Run: this is the charge per box being hand-printed. This cost will be required for every printed item/job. The cost is dependant on the range or product type. Please note; this does not include the cost of the box, the set-up cost nor delivery.

---
Lead Time
As all our boxes and bags are printed by hand in house, our lead times can differ seasonally. Lead times can start from 10 working days upwards depending on time of year. To enquire about our current lead times for foil printing, please get in touch with our printing team on [email protected] | +44 (0) 1825 725 076
Colours
Take a look at all the colours and finishes we offer.
Samples
If you're unsure what colours to choose, samples are available:
Standard Range:

1st Sample £9.95 .
Subsequent: £4.95

Large Luxury Boxes:


1st Sample: £15.00
Subsequent: £7.95
Please enquire with your box code and we will be able to confirm which range it falls under.
All prices are excluding VAT.
*subject to additional cost of printing plate & postage.
FAQs
What if I don't have a design or logo?
We have an in-house design team who can work with you to create what you're looking for and make it print-ready. We charge £20 per half an hour for design work, but once created, all files will be sent to you for future use.

Will the print smudge?
The beauty about foils is that they don't behave like inks. They will not smudge once printed.

Are the boxes still recyclable after being printed?
The answer is yes! Due to the very small percentage of foil used on the boxes, the particles become insignificant during the recycling process so they are still completely recyclable. Please check box stats prior to ordering. Still have questions? Get in touch on [email protected] or 01825 725 076 Or fill in the form below to start your printing journey!