The Tiny Box Company

Branded Gift Bags

Add some personality to your bags with custom design or logo branding.

Creates a branded feeling that customers love, and will no doubt come back for more.

Help your gift bags to stand out from the crowd and create brand recognition.

Once we have your design on file we can print on boxes, ribbon and on full colour printed labels for you.

All our hot foil printing is done in house by hand and it must pass our quality control before we run your job.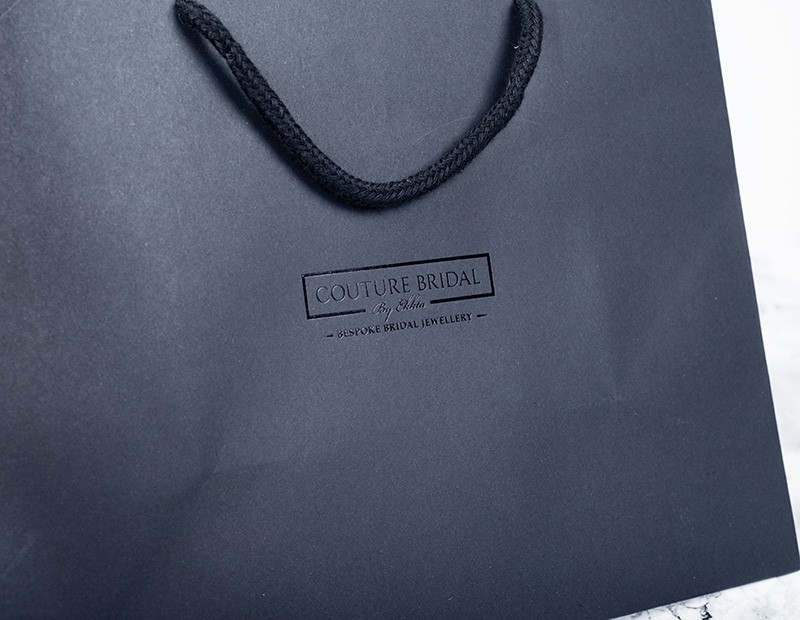 All you need to know about printing with Tiny Box
The minimum hot foil print order for bags is 100 units per size. The price for printing is 0.22p per print on each bag (minimum print charge £22.00) with set-up/printing plates ranging from £25.00-£81.80 (subject to VAT).
At the Tiny Box Company we use a Hot Foil Blocking method
Our foil colours range from metallic to matt finishes. The printing presses are manually operated and our printing team are very experienced and dedicated to quality, every bag is checked after each print, then hand packed ready for delivery, right to your door.
If you don't have artwork or a logo design then we can help.
The Tiny Box art department is on hand to assist should you require this service. There is a small charge; however, once you are happy with the logo/artwork we then supply the files back to you for future use. Please contact us for a quote if you are interested in this service.
Already have a logo or artwork?
We ask that you make sure the files are in vector format, with the file type .ai, .eps. or PDF to ensure the highest print quality. If you do not have a vector logo or artwork in the correct file format we can help, we can re-create your designs into the correct format (small charge applies). Our Graphic Design team will advise you on print area for bags as it is a little more tricky than boxes.
Want a sample first?
This can be provided - see costs below:
Sample Bags: 1st Sample: £9.95 Subsequent: £4.95
All prices are excluding VAT. *subject to additional cost of printing plate & postage.
Once your logo or artwork is ready we then create 2D mock-ups of your design on the bag you have chosen, in a foil colour of your choice from our extensive colour range.
We are unable to match PANTONE, CMYK or RGB colour references; however, our team are happy to advise should you need any assistance with this. We are unable to print onto our fabric bags, only our paper bags can be printed on.
For more information on hot foil printing please contact [email protected] or call our team on 01825 723832.