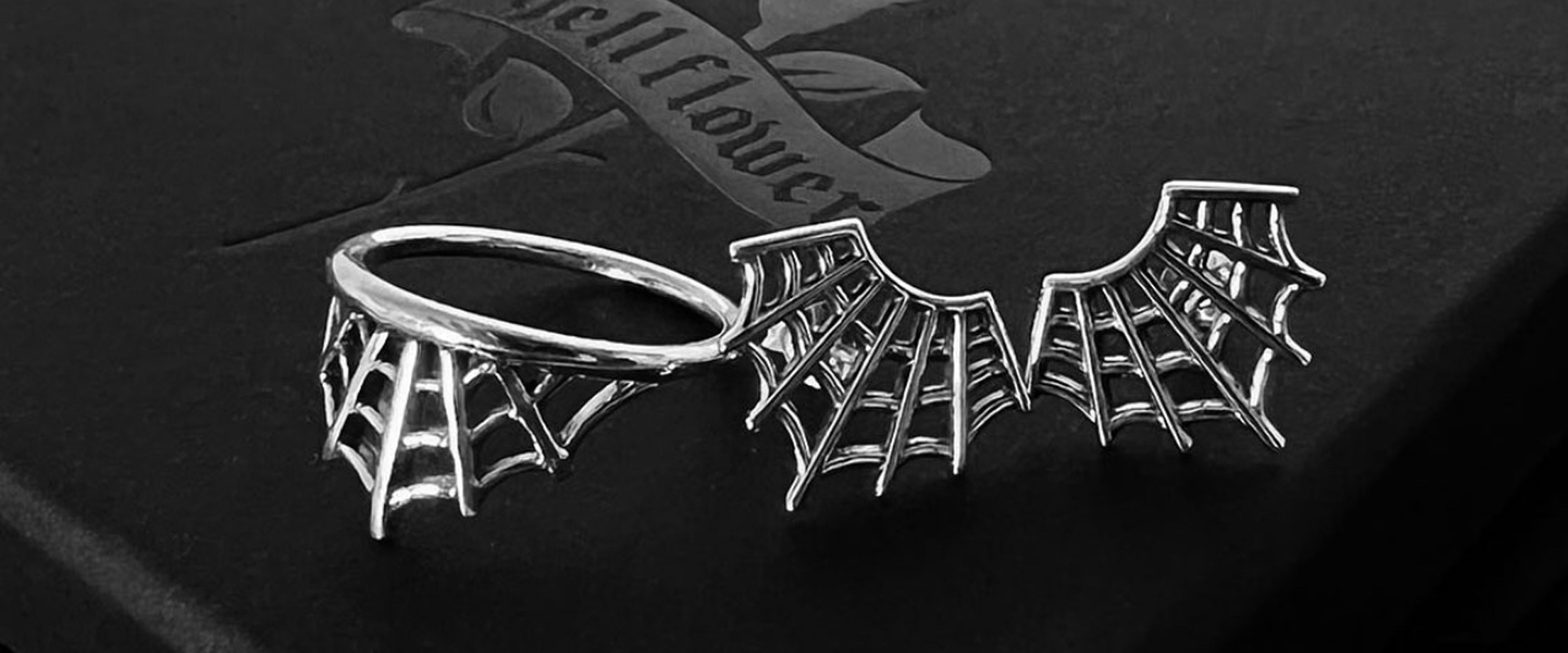 We're so excited to introduce one of our long-standing print customers, Georgia, from Hell Flower and her experience starting her business. The female-led business started during lockdown with an impressive growth of followers on social media. Georgia has her boxes printed with us for her jewellery and trinket items, check out the process here. Grab a cup of tea and have a read through our interview.
What is your name and business name?
My name's Georgia and my brand is Hell Flower.
What does your business sell?
Hell Flower is a fiery lifestyle and accessory brand. I sell jewellery, body harnesses, underwear and more.
How long has your business been running?
I started the brand as a lockdown hobby during the pandemic in 2020. Hell Flower is 2 this month!
What are your best sellers/what is your best selling product?
My underwear, particularly the 'Mimi' black lace set, which sold out within the first month of release! I have been completely blown away by the response and can't wait to design more. Staples are definitely the 'going to hell' sport socks and the classic hysteria harness.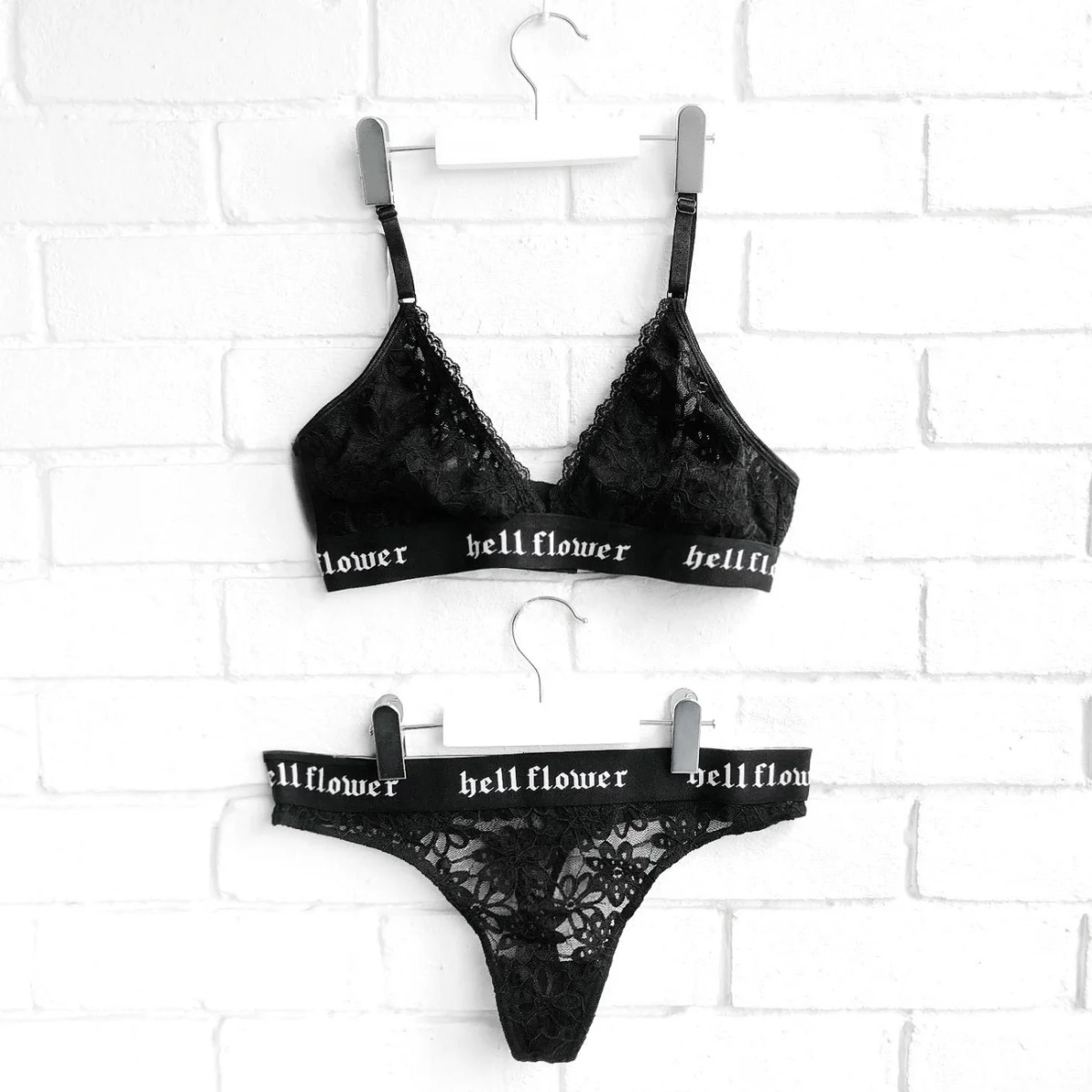 What is/was your background before starting your business?
My background is photography. I previously worked as a studio photographer/digital re-toucher. These skills have been invaluable for starting my own business at a time where online marketing and social media is so impactful. I have also been incredibly lucky with my customers, who continuously share gorgeous images of themselves in my products.
What challenges have you faced whilst running your business?
Running a brand solo means you have to juggle so many balls, it can sometimes feel overwhelming. You've got to design products, run your website & socials, do the accounts, pack the orders, reply to emails - the list goes on and on! I'm still perfecting my work life balance. It's definitely not like having a 9-5 that you can clock in and out of but of course it certainly feels very rewarding when your hard work pays off.
What are your go-to boxes or packaging accessories when you buy from Tiny Box Company?
My favourites are the black 100x100x17 mm boxes.
Why did you choose these products?
They are an ideal size for sending my necklaces and earrings. I sometimes add little pocket mirrors and keyrings into them too. The 17mm depth makes them easy for posting purposes.
What made you decide to get your product packaging printed?
I just adore the black logo on black box combo! Very slick. Just how I want my brand to look and feel.
What swayed your decision to buy packaging from Tiny Box Company?
I really like that you're a Sussex company like me! I'm also in admiration for your founder Rachel and what a successful woman owned business she has built.
How do you find the print process when buying your packaging from Tiny Box Company?
Tiny box offers fantastic customer service! I email and within a very short period of time an invoice is sent my way. It's definitely the helpful and efficient service you need when running a business.
How important is eco friendly and sustainable packaging for your business?
I have recently been moving away from the bubble mailers and sourcing boxes instead which can be recycled by my customers. Little changes can go a long way, especially for a growing business.
What impact do you think having branded/customised packaging has had on your business?
It certainly adds the professional touch. Customers have told me that they keep the boxes too to keep charms and trinkets in which is fantastic.
What advice would you give to someone who is thinking of starting their own business?
Just do it! So many people over think, over complicate and procrastinate - I myself am guilty of this too. I'm so glad that I threw myself into it despite my anxieties or reservations. We often think we need to have it all figured out from day one, but the truth is you'll do the majority of your learning along the way. Make a start, however small. Trust the process. From tiny seeds, big trees grow.
What advice would you give to someone looking for branded packaging?
Don't underestimate the importance of a strong brand and logo. Customers are more likely to re-purchase from you, or buy gifts from you if they know that the items arrive beautifully packaged. I'd recommend spending time on a logo design and teaming up with a dedicated packaging company like Tiny Box Company to bring your vision to life.
Check out Georgia's links here: Instagram - Website - TikTok
To find out more about getting your boxes digital or foil printed by our team, click below...