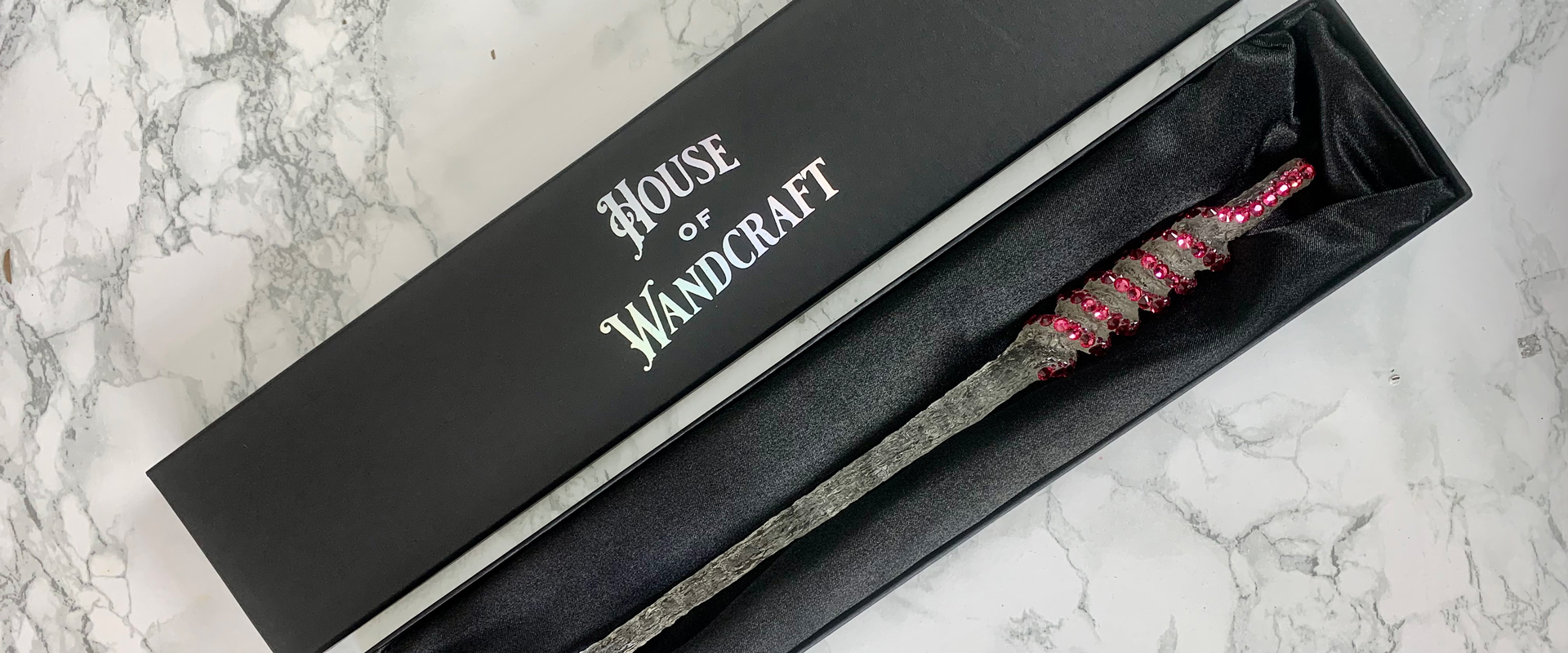 We're very excited to introduce one of our print customers, Grace, from House of Wandcraft and her experience starting her small business. Grace started her business during lockdown and has since grown rapidly across her social media channels. Grace has her boxes printed with us for her handmade magical wands, check them out here. Make yourself comfy and have a read through our interview.
What is your name and business name?
My name is Grace and my business is called House of Wandcraft.
What does your business sell?
I sell handmade wands that are cast from epoxy resin. I like using different colours and adding embellishments with lots of sparkle! Every wand comes with its own certificate and bespoke box. I put a lot of love and time into every detail and I try to make everything feel magical.
How long has your business been running?
I started my business during Lockdown in April 2020. Like many of us, having a creative outlet during this time was what got me through it. I'm called House of Wandcraft because it all began at home.
What is your best selling product?
Some of my wands are totally covered in individually placed jewels and these are the most popular. They take a really long time to make, but I enjoy the process and actually find it quite relaxing.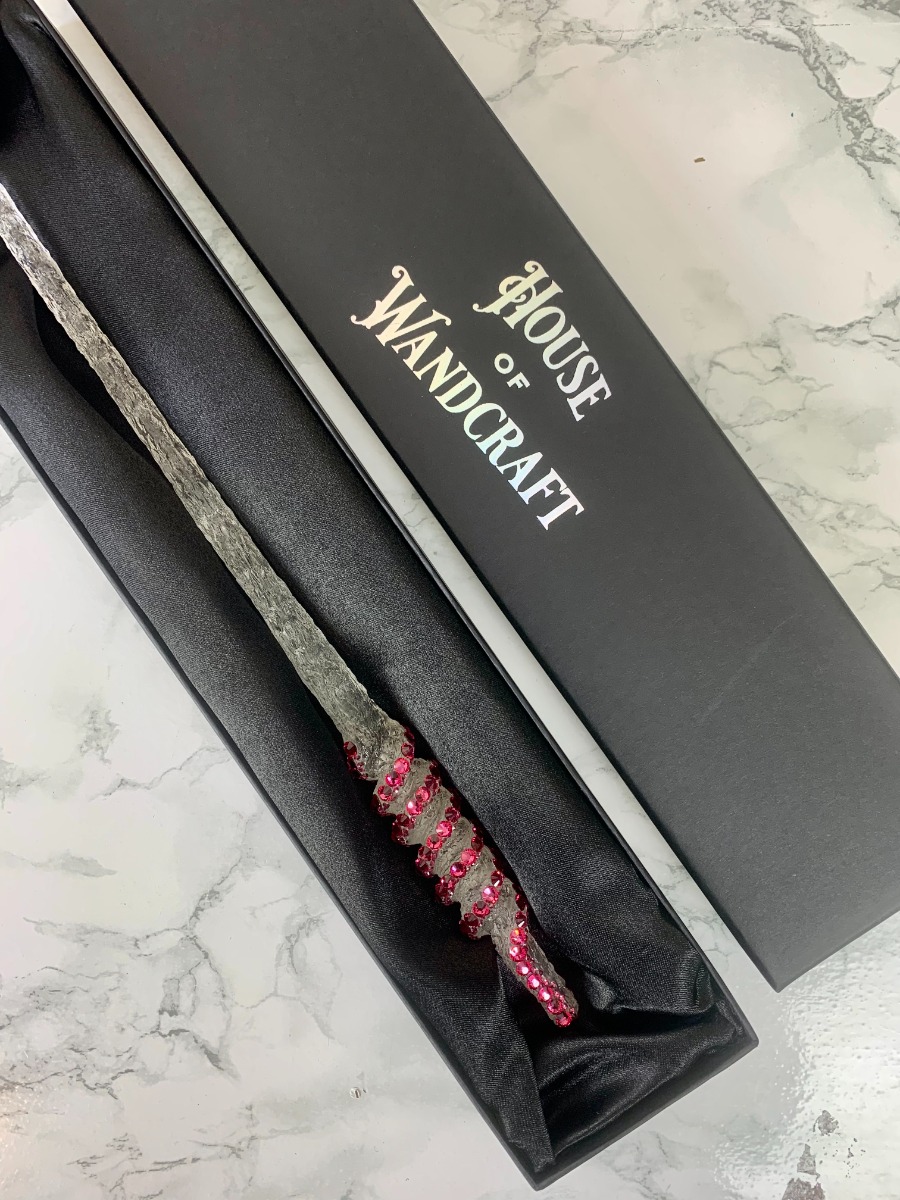 What was your background before starting your business?
I graduated from The Royal College of Art in 2010 with an MA in Mixed-Media Textile Design. I liked to use a variety of different mediums in my personal practice and in 2014 I started using a 3D Pen. This led on to a number of exciting projects including creating a record-breaking life sized car! I also enjoyed creating online tutorials, and started to run classes teaching people how to use a 3D Pen. My most popular class was one where you could make your own wand with a 3D Pen, which I called School of Wandcraft. However, because of Covid I had to stop the classes and totally reassess my business model.
What challenges have you faced whilst running your business?
I ship my wands out to customers all over the world and the logistics of this can be tricky to get your head around in the beginning. You have to be on top of any changes in regulations that come into place and work out what the best option is. Customs forms have to be filled out perfectly with all the correct codes - you can't make any mistakes!
Could you describe the products you purchase from Tiny Box Maker?
I have bespoke boxes made for my wands. They feature a silver holographic foil print logo, which looks so magical! The boxes are lined with black satin and are filled with 'eco balls' which are an eco-friendly alternative to polystyrene. They also have a flocked foam insert in the lid. House of Wandcraft is based entirely online so I need to make sure the wand is totally protected in the owl post!
Why was it important for you to have your boxes made bespoke?
When I first started House of Wandcraft I didn't have the budget to get bespoke boxes so I used to make them all myself! It took me so long, but I didn't want to compromise on my creative vision. Because my customers aren't going into a bricks and mortar shop, I need to somehow recreate that magical experience for them at home. The box is an integral part of the product and makes it feel extra special. It was a massive milestone for my business to be able to get the boxes outsourced. It sounds silly now, but I was actually worried that my customers would be disappointed that I wasn't going to be making them myself anymore! They were all really supportive and understood that it was the right step for my business. Because of this, it was so important that I teamed up with the right company. I love that my boxes are handmade in the UK and are such good quality. It was a great decision for my business and it has allowed me to spend the time saved making more products and developing new ideas.
Do you run your business full or part-time?
Part-time
How much time do you dedicate to running your business each week?
At the moment, I work two days a week at a university in London teaching textiles, sewing and embroidery. The rest of the time, (and the school holidays) I work on running and developing House of Wandcraft.

Are you comfortable being part time or would you like to go full time?
I'm going to try and keep my part-time job for as long as it makes sense. We live in very uncertain times and statistically most businesses will fail! I wouldn't be able to do what I do now with a full time job, but having a side-hustle gives me the best of both worlds. I still have a sense of financial security and I can invest profits back into the business.
What swayed your decision to buy packaging from Tiny Box Maker?
I did a lot of research and ordered samples from other companies, but Tiny Box Maker had the best quality product as well as being eco-friendly and sustainable. It's also useful to be able to order relatively small quantities of boxes. It can feel like a bit of a risk spending large amounts of money at once, so it's great to be able to test things out and see how well something sells.
How do you find the process when buying your packaging from Tiny Box Maker?
I've found it really useful to be able to order samples, that way you can make sure all the details are just how you want them.
How important is eco friendly and sustainable packaging for your business?
It's absolutely essential to ensure all packaging is as eco-friendly as possible and to work in a sustainable way. I don't think of my boxes as being 'disposable'. I hope that my customers like their box enough to keep it!
What impact do you think having branded/customised packaging has had on your business?
For me having bespoke packaging has had a massive impact on the growth of my business and building a recognisable brand, especially on social media. Some of my most popular posts are of me packing up orders for customers.
What advice would you give to someone who is thinking of starting their own business?
Find your niche. I'm fully aware that not everyone wants a jewel-covered wand… and that's okay! Focus on creating a deeper connection with your target audience.
What advice would you give to someone looking for branded packaging?
If you're just starting out then try to find something premade that you can order small quantities of and customise yourself with a sticker or stamp. I would say develop and increase your branded packaging as your business grows. My packaging is constantly evolving and in the future I would love to create some bespoke shipping boxes and some ribbon with my logo on it.

Check out Grace's links here: Website - TikTok - Instagram
To find out more about getting your boxes digital or foil printed by our team, click below...