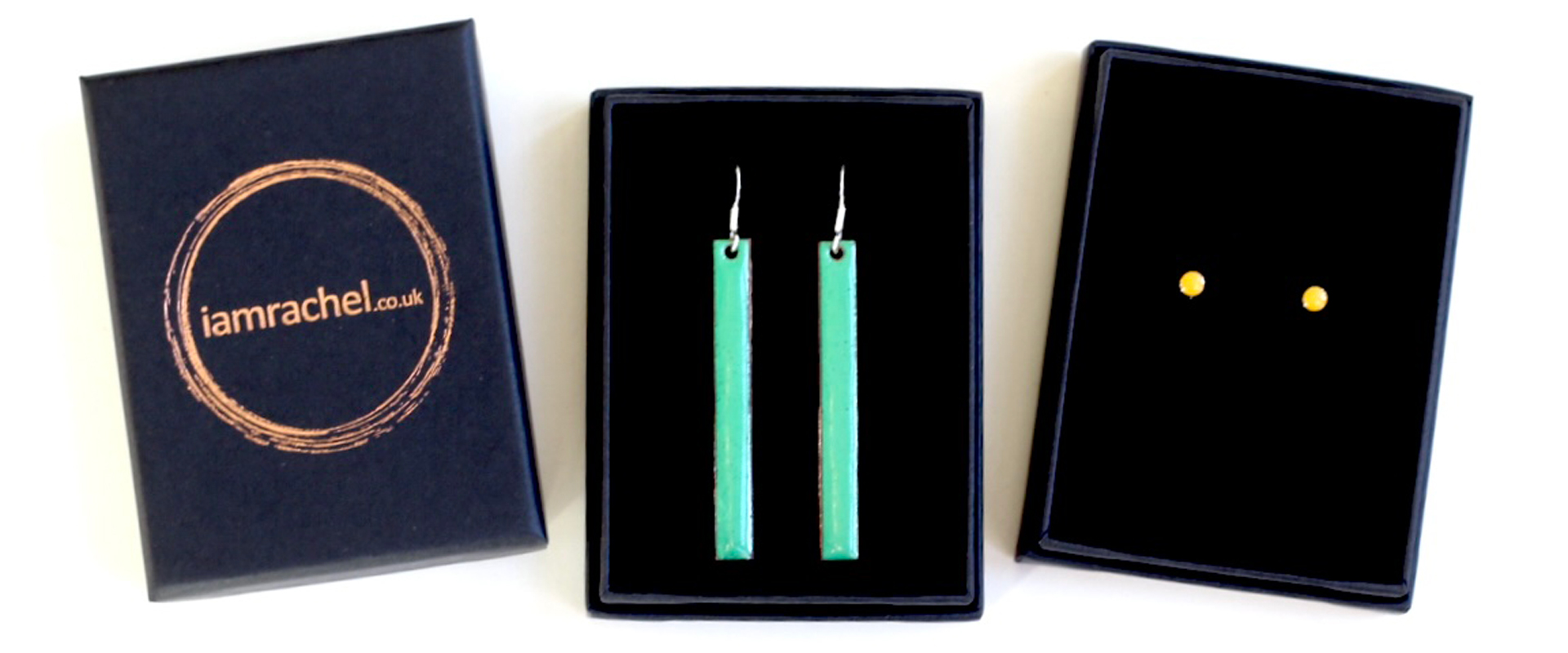 We're very excited to introduce another one of our print customers, Rachel, from iamrachelshop and her experience of starting up her jewellery business. Rachel has been running her business for almost 13 years creating beautiful jewellery. Rachel has her boxes printed with us for all of her pieces of jewellery, check them out here. Have a read through of our interview with Rachel below.
What is your name and business name?
I am Rachel and my business name is iamrachelshop
What does your business sell?
I design and make colourful enamel jewellery and classic silver gifts.
How long has your business been running?
I've been selling on Etsy for almost 13 years but built the business very slowly and have been running professionally for around 5 years.
What are your best sellers/what is your best selling product?
I don't have many best sellers as surprisingly most things seem to get a similar amount of orders. However since I launched my long rectangular drop earrings and 4mm tiny enamel studs they have both sold very well.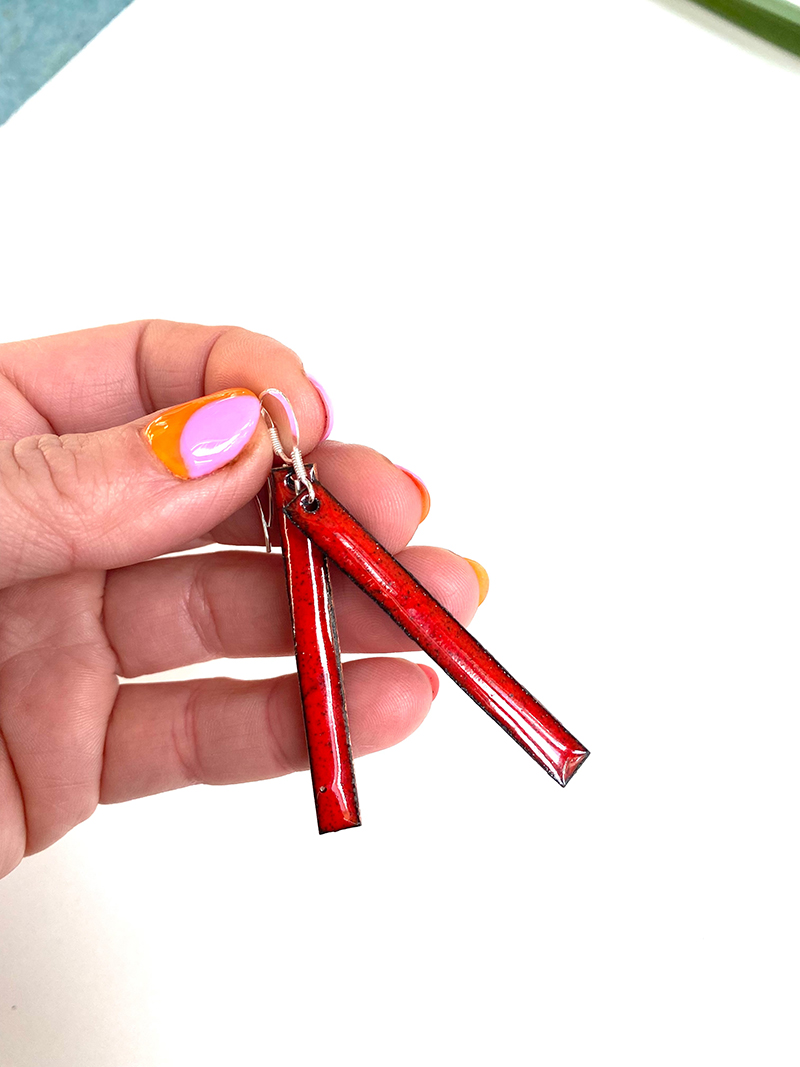 What is/was your background before starting your business?
In my mid 20s I qualified as a primary school teacher but after 8 years decided it wasn't for me. I was then a nanny for a few years for a family in Bristol. I left that job when I had my 1st child in 2018 then began growing the business from then.
What challenges have you faced whilst running your business?
There are always challenges when running a business but I think the biggest one for me at the moment is time. My head is buzzing with ideas for the business but with 3 young children at home much of the time I find I have to really prioritise and put some on the back burner for a few weeks, months, or even years!
What are your go-to boxes or packaging accessories when you buy from Tiny Box Company?
I always order the Thin Earring Boxes and have been for over 10 years! I have had them in all four colours during that time but have now settled on Black as my favourite, it makes my logo stand out well.
Why did you choose these products?
Not only do my earrings and pendants fit perfectly in them but also I love that they can be sent as large letter post keeping postage costs down for both me and my customers. They fit through letter boxes so they don't have to be taken to the depot if customers aren't home when they receive a jewellery delivery.
What made you decide to get your product packaging printed?
My uncle is a picture framer and taught me the importance of quality packaging. The box is the 1st thing people see when receiving my items so it is important to me that it reflects the beauty of the jewellery inside.
Do you run your business full or part-time?
As I have already mentioned I have 3 young children so the business is as full time as it can be right now.
What swayed your decision to buy packaging from Tiny Box Company?
My first order from Tiny Box Company was in 2013, the thin white earring boxes. I think I may have seen the company on Dragons Den and loved that these boxes could be posted as Royal Mail large letter.
How do you find the print process when buying your packaging from Tiny Box Company?
I have been ordering printed boxes for so long that it is super easy just to re-order with my iamrachel branded print plate. When setting up my initial print plate Tiny Box Company sent through mock-ups for me to approve. I love that there are so many colour options for the foils and often change my colour usually opting for the metallic foils.
How important is eco friendly and sustainable packaging for your business?
Very important! I can control everything in my business, especially the materials I use but I can choose where to buy my packaging from, so choosing a brand that is eco conscious is important to me.
What impact do you think having branded/customised packaging has had on your business?
Customers often comment on the quality of my packaging, and although I don't add lots of un-necessary tissue, sparkles or confetti to my packaging (to make it more sustainable) I don't feel it needs it due to the beauty of the boxes.
What advice would you give to someone who is thinking of starting their own business?
I have learnt so much over the years so I could write pages and pages on this topic! I would say aim high, but don't set too much expectation on yourself, especially if you are working alone. Work life balance is still important and you can only do what you can do. Don't burn out and lose that passion for what you do. Plus take great product photos from the start or employ someone to do them. Photographs are often the first thing people see so they need to be spot on!
What advice would you give to someone looking for branded packaging?
I would definitely recommend Tiny Box Company. The quality of the packaging is second to none and I am never disappointed when I receive my boxes! You can contact them by phone or e-mail and communication is great. There are so many options for boxes, bags, ribbon and other packaging requirements and their sustainable ethos is a great selling point for me.
Check out Rachel's links here: Website - Instagram - TikTok - Etsy
To find out more about getting your boxes digital or foil printed by our team, click below...