17 Amazing Ideas for Easter Egg Decoration
Easter is just around the corner and if you're curbing the chocolate and making decorative eggs instead, here are 17 totally A-MA-ZING egg decorating ideas! Fun to make with the kids and a great alternative to stuffing your face with chocolate, getting crafty is the best way to spend your Easter this year. You will also find some fantastic ideas for Easter gifting, so if you're looking to impress, take a look at these ideas below.
These fabulous egg designs are so fun and exciting to make that you'll never want to go back to a shop-bought chocolate egg ever again. And remember, if you're sending them in the post or giving them as gifts to loves ones, take a look at our huge selection of
recycled gift boxes
and
mailing boxes
.
1| Paint Splatter Eggs
Spray painting is one of the easiest ways of making plain boring eggs look colourful. But if you want to get the fun and funky splatter effect, try finishing off your spray painted eggs with a different coloured paint and flicking with a paintbrush. Choose contrasting shades to create bold designs and always make sure you have newspaper covering any walls / surfaces to make sure you don't get paint everywhere. If you're using spray paint, you can also use a variety of spray paint can nozzles to achieve different paint effects.
2| Chalkboard Eggs
If you want something completely different and unique, chalkboard eggs are a genius idea! Creating hours of fun for kids, a chalkboard egg can be doodled on and erased time and time again – so you can keep your chalkboard creations for next year too. All you need is chalkboard paint and some coloured chalk; make sure you cover the whole egg with the paint so the surface area is smooth enough to draw on and then let the chalky fun begin. To re-use the eggs for next year, make sure you hollow them out before you paint them. And don't forget to supply a miniature sponge so your kids can erase their chalkboard scribbles.
3| Dip Dye Dippy Eggs
Everyone loves a dippy egg. In fact, it's one of Great Britain's most loved breakfasts. But this is a different kind of dippy egg. If you're into fashion and beauty and all things celeb, you'll have seen the huge craze for dip dye in just about everything; dip dye hair, dip dye nails, dip dye fabrics. Ombre is hot property right now and you can make your Easter eggs just as trendy. To achieve that graduation in colour (or perhaps a graduation of two colours if you're feeling fancy), all you need is a bowl of water with a few drops of colouring. Dip your eggs in halfway and hold for 45 seconds, dip your egg in further for another 45 seconds, and continue to do this gradually until you have an ombre effect. Repeat on the other side until the whole egg is covered.
4| The Knitted Easter Egg
This is one of the sweetest and most traditional ways to decorate an egg. Dating back many years, this has been an age-old favourite method for grandmothers worldwide. Knitted egg covers are great because they can be used year after year – simply replace with a new egg and you're good to go. Knitting a cover is easy once you have the know-how and you can either attempt a cool pattern or a novelty animal complete with eyes and ears.
5| Glitter Eggs
There are so many ways you can use glitter to decorate your eggs this year. You can use a glitter spray paint for all over coverage, or you can use glitter paint pens (available from most craft shops) to create unique patterns and designs. Or for a cool ombre effect, why not try coating part of the egg with PVA glue then dipping in a pot of loose glitter. For intricate designs you can even use stencils to draw letters, names, symbols or patterns.
6| Gold Foil Eggs
If you're throwing a stylish Easter party, gold foil eggs could be the perfect decorative items to make your home look amazing. Elegant and refined, a basket of gold foil decorated eggs are a sophisticated take on a popular Easter tradition. For the adult version of a kids' favourite, use sheets of gold foil and wrap around eggs or use gold foil flakes for a cool, rustic look. For precision, use a small paintbrush for the glue and apply the foil flakes using a pair of tweezers.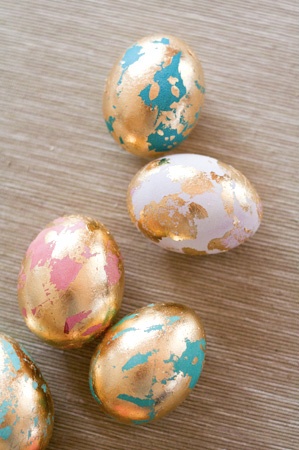 7| Lace Stencilled Eggs
Lace is the ultimate feminine touch. To get that delicate look of lace on your Easter eggs this year, use lace trim around the width of the egg and choose a bright paint colour to create a stunning contrast. Use a spray adhesive for a seamless finish or use a small paintbrush to apply glue to areas of the lace fabric. Alternatively you can use the lace as a stencil to create subtle patterns.
8| Paper Mache Eggs
Paper mache provides great fun for the whole family – if you love being hands on with crafts and you don't mind a bit of mess in the kitchen, let your little ones go crazy with the paper and glue. And the best thing about it? No eggs are required in the making. All you'll need is a balloon, some coloured tissue paper and paper mache glue (which can be easily made at home using 1 part flour + 2 parts water). Once you have covered your balloon with paper mache and left it to dry, you can deflate the balloon with a pin and then remove from your paper egg shell. If you want your eggs to be extra special, cut a small slit at the top and fill with sweets and chocolate.
9| Embroidery Eggs
Embroidery thread comes in handy when it comes to egg decorating. Useful for much more than just embroidery, the coloured thread can be used to wrap around your eggs to create a stunning striped effect. Use two colours to create a classic stripe pattern or incorporate a rainbow of colours. Simply cover your egg in glue and start to wrap the thread around neatly to get this effect.
10| Secret Message Eggs
Message eggs are ideal if you're putting together an Easter egg hunt for your children; each egg will contain a clue to find the next egg before finally leading to the grand prize. Or maybe you want to send a loved one a nice Easter message this year. Whatever you use message eggs for, you'll be pleased to know that they are super easy to make! Decorate your egg as you wish – whether you decide to paint, glitter or dip dye – pierce a small hole to hollow out the egg and then insert your rolled up message inside. Send in a tissue paper filled
mailing box
and include a message asking your recipient to crack open the egg. They will be so surprised to see a little note inside. These eggs are thoughtful and calorie-free!
11| Fabric Covered Eggs
If kitsch, cute, bright or garish is just a little too much for your taste, why not create something that matches seamlessly with your home's existing décor? If you're looking for some decorative eggs that look fantastic all year round, a great idea is to use leftover fabric from your curtains, cushions or upholstery to wrap around your eggs. This will ensure that Easter stays classy and blends in beautifully with the rest of your interior design theme.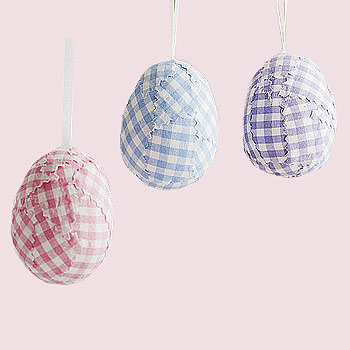 12| Family Egg Heads
Family photo egg heads make perfect gifts for the whole family. Whether you send them out in the post or just create one for every member of your household, this idea will give you hours and hours of fun! Use low weight paper to print out photos of your family (use clear head shots that can be easily pasted onto an egg) and then use spray mount or paper mache glue to apply. If you want a glossy finish to your egg, you can use a transparent glue to varnish – just be careful not to smudge the photo.
13| Easter Egg Beanies
If you're a dab hand with the knitting needles, why not get creative with some miniature hats tiny enough to cover a cute little egg head? Bobble hats and beanies are fun ways of adding a playful edge to your Easter eggs this year and you can create a variety of faces using a permanent marker or some black paint. In order to knit tiny little beanies with ease, you will need to find some small knitting needles and some thin knitting yarn.
14| Marble Eggs
Marbled eggs look absolutely fantastic and are always such a talking point. And they are surprisingly straight-forward to design. You won't have to buy any special paints or equipment either – all you will need is some water and some of your favourite nail varnish colours. Simply fill a bowl with water, drip your first nail varnish colour into the water, drip another colour directly into the centre of the first colour, drip a third into the same part of the water and continue to do this until you have included all the shades you want to use. You can also use the same colours over and over again to create more depth in the pattern. Once you have done this, you will see colourful rings appear in the bowl of water. Use a toothpick and make light strokes from the edge of the rings into the centre or swirl around to form random patterns; this will create a lovely warped effect. Then dip your egg into the water and cover as much of your egg as possible whilst using the toothpick to pull away any excess varnish in the water. Dry the egg on a drying rack to ensure the pattern stays intact.
15| Caricature Eggs
If you consider yourself to be a bit of an artist, why not get doodling with some coloured markers and design some funny caricatures on your eggs this year? Eggs are the perfect shape to emulate one's head so you can make a 360° work of art and surprise your friends and family with an egg head version of themselves. These are fantastic little gifts, especially if you know someone who is on a health kick and doesn't want to be tempted with sugary treats. If you are sending in the post, make sure you pad out your mailing box with our
raffia or filler
to prevent it from smashing. We also have a range of
mailing boxes
which are the perfect size for eggs.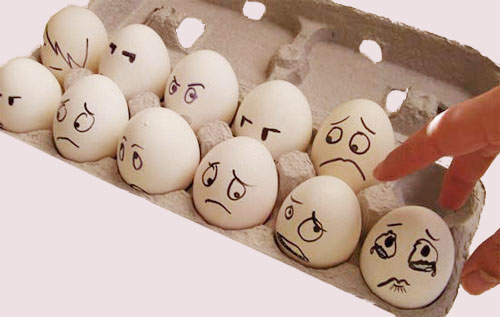 16| Crayon Eggs
Not all eggs have to be perfect and pristine and that's what Easter is
really
about; it's about getting crafty even when you're no Pablo Picasso. If you're clumsy with a paintbrush and a complete liability with glue, why not try something a bit more manageable? Ideal for kids and adults alike, using wax crayons is the easiest (and most fool-proof) way of decorating eggs. Once you have hollowed out your egg, it becomes delicate and very easy to break. But wax crayons melt and soften once they meet another surface, making them the perfect tool for colouring delicate egg shells. Create zig zag patterns or create a pretty design using wax crayon shavings.
17| Easter Egg Cupcakes
Now this is simply genius. And your unsuspecting friends and family will beam from ear to ear when they realise what lies beneath their breakfast egg in the morning. If you want to be known as the 'Houdini of Cupcakes', you have to try this recipe; your guests will be completely baffled and wowed by this. Hollow out your eggs as usual (and soak in water to get rid of the excess egg) and then fill with cupcake mixture (use a piping bag) until it's a third way through. Use tin foil to keep your egg upright in the cupcake tray and bake. Once your cake eggs have baked and cooled, you can trim away any excess cake and then turn upside down in an egg cup and serve.