Plastic Free Alternatives
As the world becomes more aware of the damage that plastic pollution is doing to the environment, many companies are looking for ways to reduce their reliance on single-use plastics. Plastic waste is everywhere, from the bread we eat to the clothes we wear. And while it's convenient and often cheaper than alternatives, it's also wreaking havoc on our environment. Fortunately, there are a growing number of sustainable, eco-friendly, and plastic-free packaging options available. These alternatives to plastic packaging are not only better for the environment, but they can also be more stylish and sustainable. When sending out your product, consider using plastic-free postal bags, gift boxes or accessories such as recycled labels and ribbon. You can easily shop and navigate our plastic free product list above for all your sustainable packaging options.
Reusable packaging and packaging material.
At the end of the day, reusing is always going to be better than creating any new packaging. In theory, all packaging is reusable, but the vast majority gets thrown away as packaging waste. The best solution is to make sure you let your customers know how they can re-use it over and over again. To help you out, we've created 5 easy ways you can reuse your packaging. By making the switch to pouches, eco packaging options such as grease lined coffee bags and food packaging, you can simply wash out and reuse for bath salts or storing your washing machine tablets! Being smart when educating your customers to reuse their packaging materials is imperative.
What is the difference between compostable packaging and biodegradable packaging?
When it comes to sustainable packaging, there are two terms that you will often hear: compostable and biodegradable. Both compostable and biodegradable packaging are made from materials that can be broken down by natural processes, but there is an important distinction between the two. Compostable packaging is made from materials that can be broken down into compost, which is a nutrient-rich soil amendment that can be used to promote plant growth. Biodegradable packaging, on the other hand, simply breaks down into small pieces over time but does not provide any benefits for plants. While compostable packaging is the more sustainable option, both compostable and biodegradable packaging can help to reduce our reliance on plastics, plastic bags and other non-renewable materials and help us create a more environmentally friendly packaging solution.
Helping those, helping others.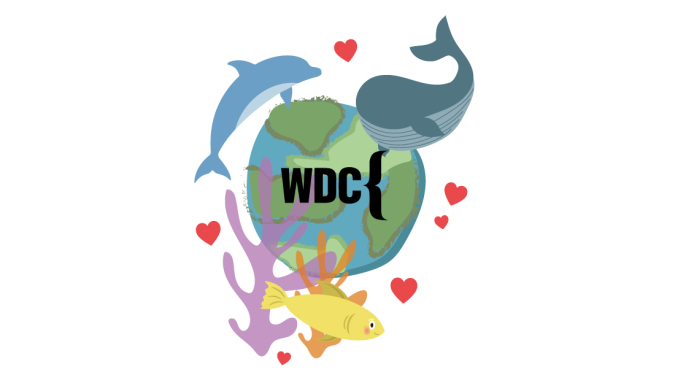 We raised £5,748 Proud to have raised money for the amazing work of Whale & Dolphin Conservation!

Find out more about the amazing work they do Visit WDC
What is vegan packaging?
For those that aren't vegan, you may be asking, how can packaging be vegan? The simple answer is; it is packaging that doesn't use or contain any animal product, nor exploit animals in the production of the packaging. Vegan packaging is not only kinder to animals, but it also has a lower environmental impact than traditional production. By choosing vegan gift boxes, bags and accessories, you're ensuring a cruelty-free product that is inherently more environmentally conscious due to fewer carbon emissions, land and water use, and food production. Whether you're a vegan company or simply just want to help the planet, our vegan gift boxes will help your business stand out from the crowd. When choosing your vegan packaging, one of the biggest issues stem from the glue used. Non-vegan packaging uses glue which contains animal product, so be sure to look out for this when you're looking for your vegan packaging options. Our vegan packaging contains no animal product at all so you can feel reassured in your purchase.
How your packaging can help our wildlife.
We know that our actions can have a major impact on not just land, but our wildlife too, which is why it's becoming increasingly important
Just as individuals are working to reduce our impact on the environment, so too are businesses. Now, compostable packaging and sustainable packaging options are available that can help to reduce waste and protect wildlife. We are so proud to introduce our new collection made from seed paper. The seeds will grow into wildflowers, providing food and habitat for bees and other pollinators. By making small changes to your packaging, we can help to make a big difference for wildlife. Seeds provide a raw material and sustainable packaging solution to standard gift tags and cards made from virgin board, which need recycling. With these new innovative gifting items, you can simply tear them into little pieces after use, and watch the flowers bloom and bees arrive!
Helping you with your recyclable packaging, biodegradable packaging, and providing you with an eco friendly packaging solution to help you and your business thrive.
We hope that with our vast range of choice, we can help you make an informed decision on which direction you want to go with your brand and packaging. Sustainability isn't about perfection, it's about taking small steps to help the planet.
With a range of recycled boxes, bags and other sustainable packaging options, we have everything you need to reduce your environmental impact. From gift boxes and recycled plastic carrier bags to custom packaging presentation boxes and gift bags. Our recycled packaging is stylish, affordable and perfect for all your packaging needs. And with a huge range of recycled paper and recyclable / FSC options available, you can be sure to find the perfect sustainable solution for your business. So why not make the switch to sustainable packaging today and help to eliminate single use plastic packaging, and reduce your carbon footprint as a business? It's the ethical choice for your business and the planet.
How to implement genuinely sustainable packaging in a small brand.
Packaging is usually one of the last things you'll think of when starting a new brand. You'll be immersed in creating your product and making it perfect for your customers, however your packaging will give your customer the first impression of your brand before seeing your product. It's so important that packaging is considered alongside the product and the ethics of your brand.
The words 'sustainable', 'green' and 'eco-friendly' are often thrown around all the time by the packaging industry, but how do we really know what they mean and how to implement them into our businesses without greenwashing?
When you start your search for sustainable packaging companies, there are a few things you can check:
Check out the supplier.

Ensure they have a fair working policy and their premises and staff live up to that.

Order samples of the packaging first.

By placing a small order first, you'll be able to see how the order is sent to you. Is the company boasting eco friendly packaging, but sending the parcel to you wrapped in plastic? It will give you a good idea of whether the supplier walks the walk with their ethos.

Speak to an expert in the company.
By speaking to a director or manager, they will most likely be able to give you certification of proof of the packaging sustainability claims, and give you the best sustainable packaging solutions from their ranges.
Book a clinic to speak to one of our team