We spoke to Rosie from 'Discover Rosie'. Discover Rosie is a Fine Art business specialising in bespoke animal portraits, predominantly working on commissions.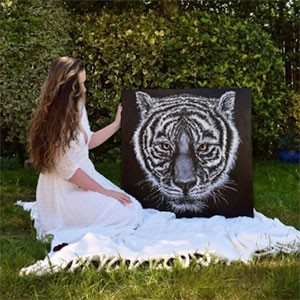 What do you sell?
I sell luxury commissioned animal portraits of varying sizes ranging from A3 to A1. Working in acrylic, I take a fresh, vibrant approach to painting on canvas. Loose brushstrokes with bright pops of colour encompass my fun signature style. The animals I paint range extensively from cats and dogs to tigers which keeps the work refreshing and challenging.
I also sell canvas prints of some of my original, non-commissioned pieces.
What are your best sellers/What is your best selling product?
My best seller is my standard A3 canvas size for commissioned work. It is the perfect size to complement any room without being too overpowering which is why I think customers are drawn to it. It is also a great size for a gift. I have had many customers commission me in secret so they can give the painting as a surprise to a loved one.
What is your background?
I am 20 years old so very much still learning the tricks of the trade. I have been very creative since a young girl and pursued Fine Art throughout school and A-Levels. As well as being visually creative I have always loved writing and expressing myself through words. I chose to study Law at University and am now heading into my third and final year.
Discover Rosie began in August 2019 near the end of a long summer. I was painting every day and soon realised I had the skills and mindset to turn my hobby into a business and make some money. Not even a year later (and while juggling the commitments of a Law degree and paralegal job) I am nearing my 25th paid commission. Discover Rosie has grown a lot in the past few months after an intense period of rebranding and focusing on what I want customers to experience when they book a commission with me and receive their bespoke product.
Have you come across any challenges whilst running your business?
I have been very lucky in the past year to encounter minimal challenges. Material expenses are probably the biggest hindrance as they are continuous. However, I have a sound pricing structure which takes into account material costs and time so I am always covered.
Another challenge has been working painting around my University commitments. Christmas was an especially busy time for me with trying to revise for exams, complete coursework and finish commissions to the best standard. All aspects worked out beautifully though in the end, so I cannot complain.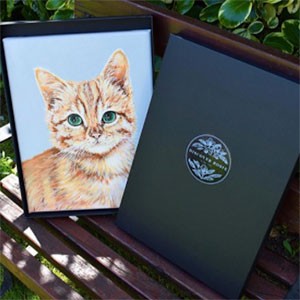 What are your go-to boxes or packaging accessories when you buy from Tiny Box Company? Why did you choose these products?
My favourite products from Tiny Box Company are the Luxury A3 Presentation Gift Box in black and white. They complement my commissions perfectly and create the luxury experience I have been after for so long. They are matte, sleek and sturdy which makes them not only look beautiful but gives me the ability to ship them all over the world knowing they will protect my paintings and arrive in the same condition as I sent them.
What made you decide to buy packaging from Tiny Box Company?
It was a number of factors for me. The price point, the luxurious nature to the boxes, the great customer service and the fact they are eco-friendly. The price point alongside the high-quality look is what initially caught my eye but as soon as I started communicating with and reading about the company, I was sold.
How important is eco friendly and sustainable packaging for your business?
Eco-friendly and sustainable packaging for me was extremely important as gift-giving culture revolves around waste but I could never find it at a reasonable price. It was almost as if packaging businesses were saying 'you can save the planet, but it's going to cost you'. Tiny Box Company has taken the opposite approach, however. They provide packaging made from recycled materials at extremely reasonable prices. I think this niche selling point will really attract small businesses to Tiny Box Company who want to make a difference.

You can visit Rosie's Instagram page
Website: https://www.discoverrosie.co.uk/